Learn how to best support your autistic patients: from experienced UK dietitians.
List of sessions:
Dietary problems in autism – Zoe Connor – 1 hour
Communication and learning: what dietitians need to know – Elaine Mealey – 50 minutes
Sensory issues: how they relate to diet – Zoe Connor – 50 minutes
Dealing with reluctant eaters – Zoe Connor and Elaine Mealey – 40 minutes
Case study workshop – Zoe Connor and Elaine Mealey – 45 minutes
My son Rob – Anna Parton – 1 hour 20 minutes
Dietary interventions – the evidence – Zoe Connor and Elaine Mealey – 2 hours 10 minutes
*Proud winner of 2015 Resource of the Year award as voted for by readers of Complete Nutrition magazine – read more here. *
Our two-day masterclass was held in Birmingham, UK in October 2013 and featured presentations on the effective management of dietary issues in autism including areas such as food desensitisation programmes, visual timetables, social stories, special diets and supplementation.
Dietitians Elaine Mealey and Zoe Connor pooled their professional expertise to provide an interactive programme to update dietitians on the knowledge and skills they need to provide dietetic care to autistic children and adults. Guest speaker Anna Parton also shared her experience of being a mum of a young man who was diagnosed with autism when he was 3, non-verbal and exhibiting much behaviour that challenged including a very restricted diet. He is now an eloquent speaker and an adventurous eater.
Feedback from attendees of the 2 days:
"We learned a huge amount through this event"
"I liked best… the interactive style and practical content."
"Well-referenced, evidence-based, common-sense, best practice approach, delivered by professionals very experienced in this field"
"An excellent study day – would thoroughly (and have done) recommend to colleagues. Came away feeling inspired!"
"I liked best… the level of knowledge and experience and enthusiasm of speakers – so well read and up to date"
26% rated the course 'very good' and 74% rated it as 'excellent'
100% would recommend to a friend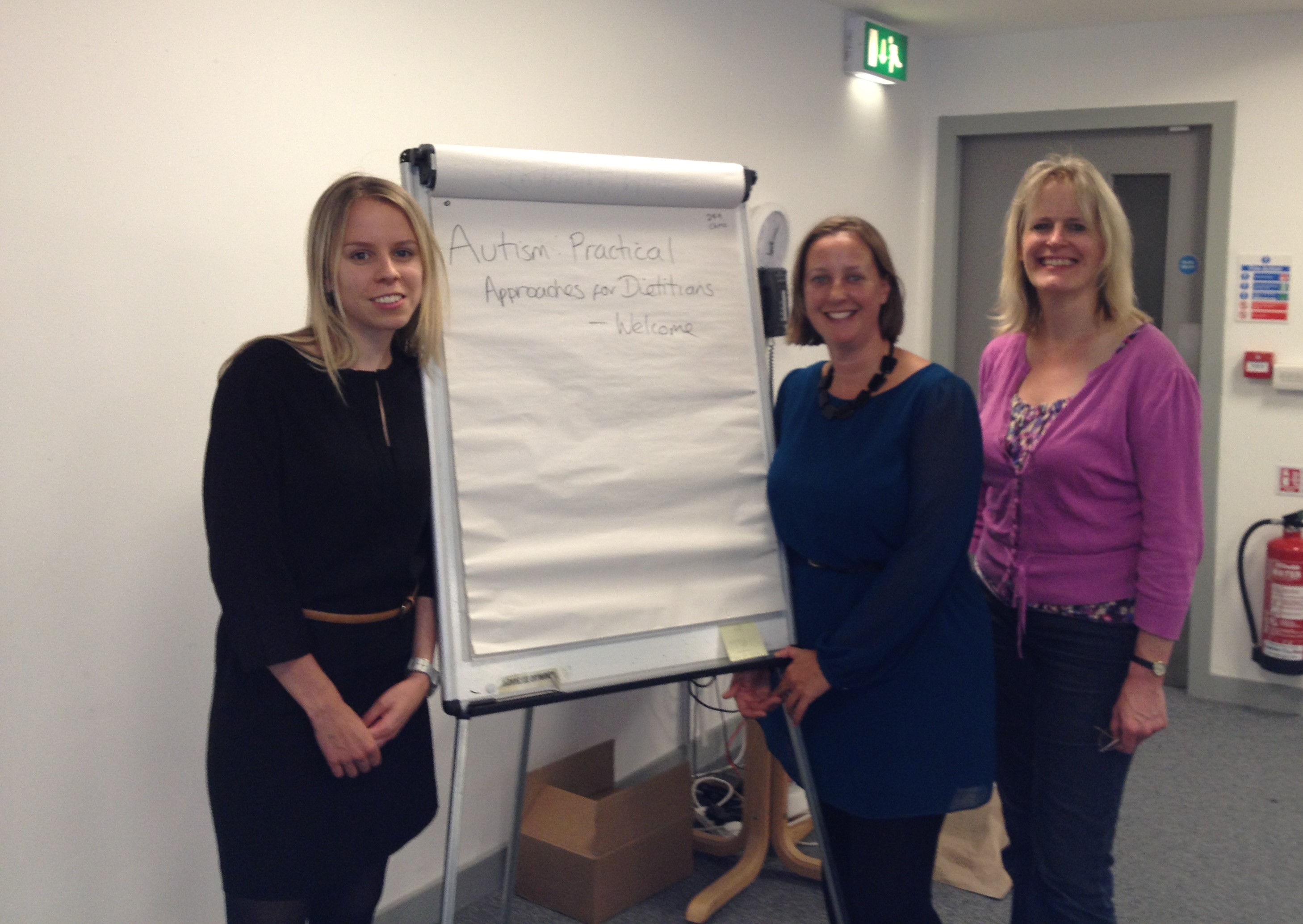 Hi, I'm Zoe Connor (the one in the middle!)
I'm a dietitan, nutrition consultant and lecturer.
I'm passionate about helping dietitians to provide better care for autistic adults and children. When I started out I found it tough to find out how I needed to practice differently and set out to understand the needs of autistic people and their families. I attended all the courses I could find, worked with some amazing teams, and joined (and went on to chair) the British Dietetic Association Autism Group.
I've helped hundreds of autistic children and some adults via my work in the NHS and privately.
In 2012 myself and my colleages Elaine Mealey and Anna Parton set up a one day course for dietitians - which promptly sold out. In 2013 we expanded it to 2 years, and as it was clear that we didn't have the capacity to repeat it regularly, we had it professionally filmed. Through these recordings, hundreds of dietitians throughout the world have been able to benefit from this comprehensive masterclass. Through this we hope the lives of many autistic adults and children have been improved though access to knowledgeable clinicians.
Frequently asked questions
Who is it for?
The event was primarily aimed at paediatric and adult dietitians and student dietitians- a useful update for dietitians with experience in working with autistic individuals, or a comprehensive introduction for dietitians new to working with autistic individuals, including those in private practice. 
Can I get a refund if it is not for me?
If you find after starting to watch that you are unhappy with the quality or content of the recordings we will refund your fee.
Who are the organisers and speakers?
Zoe Connor combines private practice, NHS work and lecturing. She specialises in working with children and adults with special needs and autism. She was chair of the British Dietetic Association autism sub-group from 2009-2013 and her published works on autism include chapters in the books Clinical Paediatric Dietetics and Food Hypersensitivity.
Elaine Mealey is a private dietitian and lecturer. She previously worked as a community dietitian based in special needs schools with the child development team in North London and prior to that was a teaching assistant in special needs schools, putting into practice many of the hands on approaches that help children with eating problems.
Zoe and Elaine are Health and Care Professionals Council (HCPC) registered dietitians. They are passionate about supporting dietitians to strive for excellence in their dietetic care of autistic individuals.
Anna Parton is also a HCPC registered dietitian and the proud mum of Robert – a young autistic man. She currently works in private practice and NHS in Swansea and has previously held posts specialising in autism and ADHD.
NB: All these details correct when filmed (Elaine is now a medical educator)
What do I get for my money?
When you purchase this you will get instant access to the recordings and handouts of the 7 sessions.
How long will it take me to work through the course?
You will get 7 hours and 35 minutes of recordings, but we'd advise setting aside maybe 10 hours to watch, reflect, and join in with activites (ie pausing the sessions where asked).
These sessions were recorded in 2013 - are they still current?
We feel that these are still current - the vast majority of the content is focused on understanding the different dietary, communication issues faced by autistic people. None of this has changed. We have summarised any key things that have changed since this course has come out on a pdf included in the course.
When are you updating the course?
We are currently working on some new training via this, our new portal (ADFaNA (the Autism Food, Drink and Nutrition Academy).
We will be aiming to make the new training more accessible to all (including subtitles/closed captions), involving more autistic people in the content, and going into some topics in more depth. It will be solely available online (not face to face)
Family and work commitments have prevented this happening prior to now and we hope to have this content out this year (2020), although how soon will depend work commitments which are changing during this coronavirus outbreak (and so might delay things!).
If you buy this course you will be given a discount for any new courses we manage to launch in the next year.
What is the difference between the standard and #stayathome package?
Nothing! This course hasn't been available online for a while - just via DVD while we develop new content.
With so many of us staying at home when we can't work I'd been getting requests for accessing it online again, but it didn't feel right to be charging the full price (the DVD is £300 and online access per single person was previously £200)